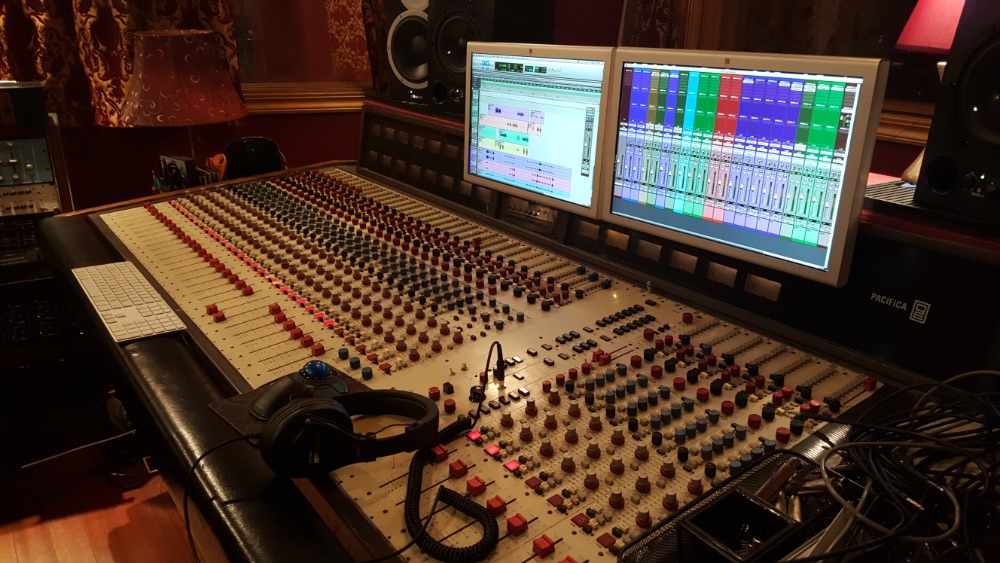 Wired into the historic Columbia City Theater is a full on multi-track recording and video production studio. The theater's main stage room serves as the primary live recording space, and is big enough to capture a full big band/full orchestra. The acoustics are incredible and capture the theater's signature sound. SPIN Magazine lists Columbia City Theater as one of the top 5 sounding rooms in the country for its size.
Led by award winning producer, musician, composer and engineer Maurice Jones Jr., Columbia City Studio can service virtually every aspect of production, and artist development. We do this all in strategic alliance with the talent buying team at the theater so we can also provide live show opportunities for our clients. Staff studio engineer Wyatt Harbaugh is also here to support each project through its development.
Columbia City Studio also has full capability for synching music to video for commercials, television and film. Our production team has worked with a variety of different companies, from regional and national production agencies, to brands including T-Mobile, Virginia Mason, and Microsoft.
"The vibe at the Columbia City Theater Studio is incredible – really serves the creative indie artist process, I love recording bands live in the theater but they are fully set up for studio recording too – great gear and great people to work with and crazy connected in the national music industry."
— Justin Armstrong - Grammy Winning Producer
GEAR LIST
| MICROPHONES | QUANTITY |
| --- | --- |
| SHURE SM 58 | 12 |
| SHURE SM 57 | 7 |
| AKG CS 1000 | 2 |
| AKG D112 | 1 |
| SHURE BETA 52 | 1 |
| GROOVE TUBE 57 | 1 |
| AUDIX D2 | 3 |
| PPA ADK 1 | 2 |
| NEUMAN KM 184 | 2 |
| NEUMAN KM 184 | 2 |
| SENNHEISER 421 | 4 |
| SENNHEISER MZC30 | 1 |
| EV RE20 | 2 |
| NEUMAN 103 | 1 |
| SHURE SM 57 | 1 |
| SHURE SM 7 | 1 |
| SENNHEISER EW 100 + EW100 RECIEVER | 1 |
| AUDIO TECHNICA DR T +16 DR 100 RECIEVER | 1 |
| SENNHEISER 609 | 2 |
| SENNHEISER 8165 | 1 |
| SENNHEISER E835 | 1 |
| DIRECT BOXES | |
| WHIRWINDS | 7 |
| ULTRA DI 20 | 2 |
| COUNTRYMAN | 2 |
| ULTRA DI 100 | 2 |
| RADIAL JDI DUPLEX | 3 |